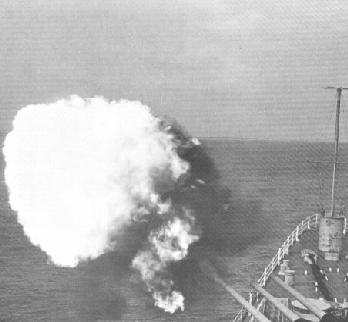 On the 5th of December 1966, she sailed for her first tour of war duty. Her guns fired their first shot in anger on December 17th while "riding shotgun" for a motor convoy up the Vietnamese coastline.

PROVIDENCE returned to Yokosuka in time for the Christmas holidays and the settling of recently arrived dependents.

Photo submitted by Colin Carnegie
On January 7, 1967, PROVIDENCE left Yokosuka for her second tour of Vietnam operations. Again she supported Commander 7th Fleet on a tour off Yankee Station and the First Marine Division on the gunline off the 1 Corps area of Vietnam.
next page