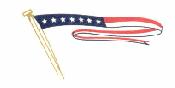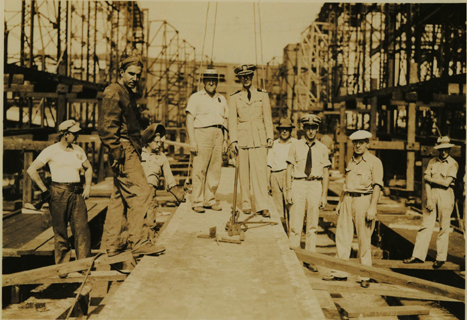 My name is Rod Haynes, former Lieutenant USN. I attached a photo of my grandfather, who is shown as a Commander but he retired as a Captain USNR. He served in WW II as a naval architect, responsible for designing the hulls of USS MASSACHUSETTS, USS PROVIDENCE, and probably a lot of other vehicles. He was therefore a restricted line officer, or staff officer. This picture was taken on July 27, 1943. Grandfather Day (mothers father) is shown standing right center on the keel of the ship. Wishing you fair winds and following seas.
Rod Haynes
former LT USN
Renton, WA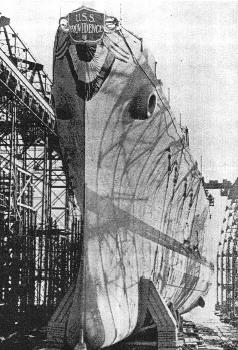 CHRISTENED
PROVIDENCE
ON
DECEMBER 28, 1944
COMMISSIONED ON
(15 MAY 1945)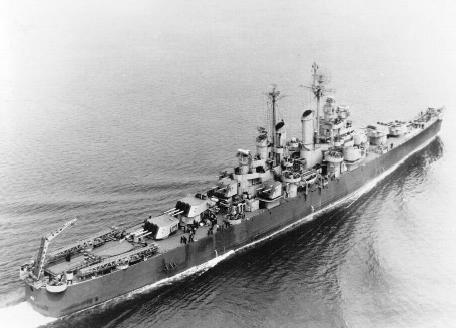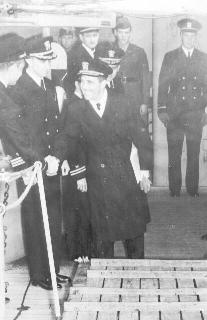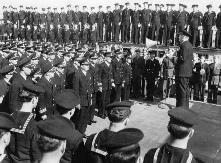 15 May 1945
U.S.S.. Providence Commissioned Today
Powerful New Cruiser Added to U.S. Fleet 4 1/2 Months After Launching

The commandant, First Naval District, Rear Admiral Felix Gygax, read the order of the Navy Department in placing the ship in commission. A small number of guests, restricted due to wartime conditions, witnessed the ceremonies and heard a group of notables speak briefly, among them being Mayor Dennis J. Roberts of the city of Providence, Governor J. Howard McGrath of Rhode Island, and Rear Admiral Felix Gygax.
Mrs. Mary A. Roberts, mother of the Mayor of Providence, and the ship's sponsor at its launching last December, was introduced to the assembly by the Commanding Officer, Captain William B. Jackson, Jr., U.S.N., who then spoke to the officers and crew of the ship.
next page