COMMENDATIONS



NAVY UNIT COMMENDATION TO PROVIDENCE - 25NOV66 TO 08NOV68


NAVY UNIT COMMENDATION TO PROVIDENCE - 20APR72 TO 01DEC72

NAVY UNIT COMMENDATION TO SUBMARINE PROVIDENCE - SSN719 (4 NUC)

POUNDING THE DO SON PENINSULA - 1972 CRUISER- DESTROYER ATTACK VIETNAM

June 9, 1972 - New York Times Magazine - "Banging Holes in the Land"
--The Vietnam war from the deck of a U.S. cruiser
....................................... an article by Donald Kirk

COMMAND HISTORY REPORT FOR 1967

COMMAND HISTORY REPORT FOR 1968

COMMAND HISTORY REPORT FOR 1972
PROVIDENCE CALL SIGN "FIGHTING DEVIL" USED IN NAVAL GUNFIRE SUPPORT IN VIETNAM.

COMSEVENTHFLEET CALL SIGN - "JEHOVAH" (formerly Blackbeard) USED DURING VIETNAM CONFLICT.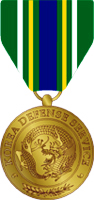 Korean Defense Service Medal
Awarded to USS Providence CLG-6
(January 29, 1968 - February 2, 1968)
Providence was part of Task Group 70.6 in the Sea of Japan during the Pueblo Incident. Any Providence sailor aboard during the above time period is authorized to wear the Korean Defense Service Medal.


Providence Ribbons