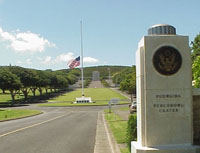 Craft, William P Jr
CWO 4 US NAVY
Veteran service dates: 06/14/1938 - 01/01/1970
date of birth - 02/02/1917
date of death - 10/29/1994
date of interment : 09/26/1995
Buried at: Section U site 1308-A
NATIONAL MEMORIAL CEMETERY OF THE PACIFIC
277 Puowaina Drive, Honolulu, HI 96813

---


A Tribute to
William P Craft Jr.
b 2 Feb. 1917- d 29 Oct. 1994
Chief Warrant Officer 4
Ship's Boatswain
USS PROVIDENCE CLG-6
by
Jim Cozine
Bos'n Craft is a legendary figure of our time aboard. He was without a doubt the longest serving member of the ship's complement having been a plank owner at the commissioning in Sept. 1959 until his retirement on 1 Jan 1970 - a tour of more than 10 years aboard. What follows is a humble effort to honor the finest man I ever met. My thoughts about the Bos'n are framed by a rhyme that we had to memorize as Cadets back in 1958 - part of the hazing practices of the time at Cal Maritime.
Q- "How long have you been in the NAVY Mister?"
A- "All me bloomin life, sir! Me mother was a mermaid, me father was King Neptune. I was born on the crest of a wave and rocked in the cradle of the deep. Seaweed and barnacles are me clothes. Every tooth in me head is a marlinspike; the hair on me head is hemp. Every bone in me body is a spar, and when I spits, I spits tar! I'se hard, I is, I am, I are!" Sounds a lot like "Popeye the Sailor" cartoon talk - just pure non-sense right? Well I could never imagine that a real person existed like this till I met CWO4 Bos'n Craft aboard the PROVIDENCE in 1961 and came to know him while assigned as 1st Div. Officer in '62. I had many fine instructors to admire but none of them had the leadership charisma of the Bos'n. He lived & breathed "love of NAVY" and all in it, in every way.
Some other reflections that come to mind are; When Bos'n Craft would keep pulling his crossed fouled anchors badge out of his pocket to show to any and all saying " Have you ever seen anything so beautiful?" at a wardroom party at the Officer's Club in Yokosuka. When Vice Admiral Moorer came on deck and the greetings between the two was not Admiral & Bos'n, but Admiral & Bill!. When the shiphandling damaged the paint job on the hull while berthing - the Bos'n could be seen pointing his finger at the bridge & expressing his disapproval of their seamanship. When he invited me to his stateroom for a few words about something I had done (that he apparently approved of) and he offered me a shot of fine Kentucky bourbon. There are many other stories already told and many of you have your own as well. I've heard new ones at every reunion and was even shocked to learn that Bos'n Craft was also famous during his time aboard the BREMERTON CA-130 '51-'57 before coming to the PROVIDENCE.
Now we understand that one's position aboard ship has some bearing on your point of view. I can recall one chief telling me "W. P." Craft stood for "Work Party" Craft - since he was always asking the Div. Leading Petty Officers and Master-at-arms for manpower. Or if you were the 1st Lt. in charge of the ship's upkeep and didn't keep the ship supplied with paint & equipment for the Deck Dept. Or you crossed the line on any of the Bos'n rules - life could change suddenly for you. Do your job well or face the wrath of one of the most powerful men aboard. Over his ten years aboard PROVIDENCE well over 3,500 shipmates would have served with the Bos'n. During that time the ship had 10 different Captains and a host of Flag staff embarked but only ONE Bos'n.
In Summary what is clear, is Bos'n Craft considered the PROVIDENCE - HIS SHIP in HIS NAVY and with HIS MEN aboard, that he had a will and spirit that was infectious to all that came in range.
What else do we know about this amazing man and his Naval career?
Let's start with the story that appeared in the Ship's newsletter
PRIVATEER January 1970 page 2. A PLANKOWNER RETIRES
The last of PROV's plankowners and almost a history book in himself, Chief Boatswain William Craft, departed PROVIDENCE for civilian life on December 31 (1969) after serving 31 years.
One of the most colorful men to serve on Providence, he served as ship's Boatswain from the date of her re-commissioning in 1959 until his retirement.
Bos'n Craft entered the Navy in 1938 as an Apprentice Seaman and quickly rose to the rate of Chief Boatswain Mate. In March 1944. he was appointed as permanent Chief Boatswain. The Bos'n spent all but four of his 31 years of naval service at sea, having served aboard the cruisers MARBLEHEAD, BROOKLYN, DULUTH, BREMERTON and PROVIDENCE.
He is authorized to wear 21 different ribbons and medals presented for service ranging from meritorious service in World War II to service in Vietnam. Many images of the colorful figure remain. His role of traffic cop in directing Sea and Anchor details. His image of complete authority and confidence in directing a boat full of civilians alongside during the ship's upriver cruise in Portland (OR). Last, but not least, his booming voice when a careless seaman was found leaning against a lifeline.
Prior to his brief retirement ceremony aboard Prov. Bos'n Craft was presented with a set of fishing tackle at a party in the ship's wardroom. He now lives in Yokohama, Japan, where he has numerous business interests.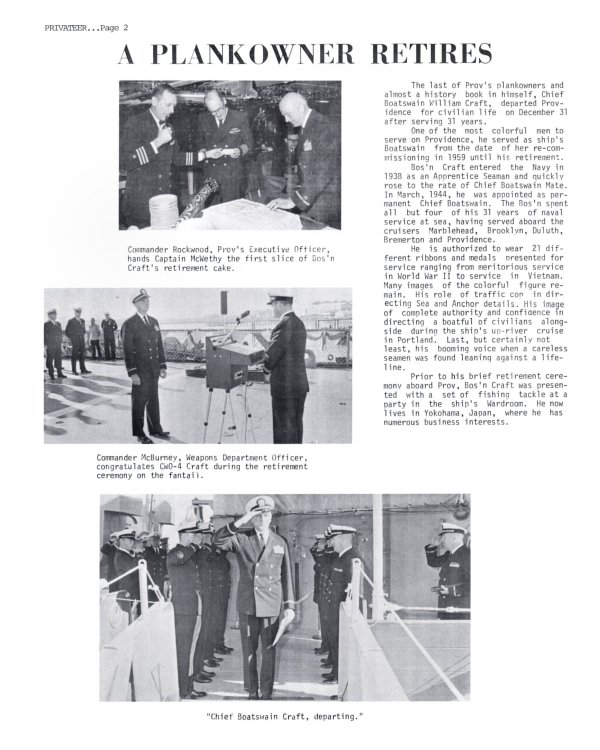 Now let's go back to the beginning with the help of the worldwide web to see more about his Navy life.
The MARBLEHEAD CL-12
+ 14 June 1938 joined the Navy in Louisville, Kentucky
+ 22 Dec 1938 reported aboard as seaman 2nd Class.
+ 16 Aug 1939 promoted to seaman 1st Class ,
+ 16 Nov 1940 promoted to Coxswain (BM3).
The Marblehead was stationed in the Far East, one of only two U S Navy cruisers (Houston and Marblehead), and other ships, based at Cavite, the Philippines. In November 1941, the Asiatic Fleet was ordered dispersed. Hence, none of the large ships was caught in the Japanese air raids on Manila. The Marblehead was anchored at Tarakan, Dutch Borneo, when news came of the attack at Pearl Harbor.
In February 1942, the Allies gathered all their warships in the East Indies for a sortie against Japanese shipping. The force including the Marblehead, Houston, and two Dutch cruisers under Admiral Doorman, with seven destroyers. The Allies had no air support, save for a few scouting planes. When 40 Japanese bombers appeared over the task force on February 4th there were no interceptors to challenge them. Shortly after 9 a.m. the four Allied ships scattered when the Japanese planes attack. The Marblehead heeled under hard left rudder, while making flank speed. Within a minute, nine more planes bore down - Men looked up from quivering decks to see columns of foam leaping up just a hundred feet away. The bombers began a fresh run at 10:26 a.m. The next instant, the Marblehead leaped clean out of the sea from the impact of three hits. Armor-piercing bombs hit forward, amidships, and aft, the ship was ablaze from every scuttle and ventilator. In minutes the ship was listing to starboard, was down by the bow and rolling sluggishly. Communications were out. Worst of all, she did not answer her helm, and continued circling madly to port. Only when steering was restored, could the ship escape further bombing. Meanwhile, the Houston also suffered a serious hit, and the flagship De Ruyter was under attack. The attackers departed shortly after noon, by when the rudder was moved to an amidships position allowing the ship to steer with the engines.
What followed was the incredible effort of the weakened crew (15 death and 84 wounded -21% of the crew) to save their ship with fires everywhere and many compartments flooded or leaking. The crippled ship steered with her engines all the way to Trincomalee, Sri Lanka before the rudder could be repaired. After stops at Durban, South Africa for more repairs and in Racife, Brazil for fuel she arrived in New York City three months later, on May 4th , a voyage of some 9,000 miles.
Read the full account 'Escape from the Jaws of Death' at http://www.legendinc.com/Pages/MarbleheadNet/MM/Articles/USSMarblehead.html
Other entries on the ship's muster rolls for William Paul Craft Jr were:
+ 3/16/42 - advanced to BM2
+ 6/11/42 - agrees to extend his enlistment for 2 yrs
+ 6/12/42 - advanced to BM1
+ 6/14/42 - extended enlistment is accepted.
+ 6/30/43 - advanced to BMC (AA) - Chief Boatswain Mate - Acting
+ 2/07/44 - appointed to Boatswain (T) - Warrant Boatswain -Temporary - to rank from 1/15/44
Note: Bos'n Craft is selected and appointed to Warrant in just 5.7 years
In October 1942, the rebuilt Marblehead again put to sea. Attached to the South Atlantic Force, she operated from Recife and Bahia, Brazil, until February 1944. Returning to New York on 20 February, where she operated along the convoy lanes of the North Atlantic for the next five months. She then sailed for the Mediterranean, arriving in Palermo on 29 July. The ship earned two Battle Stars in WWII.
After 9 February 1944 Warrant Bos'n Craft appears on the Officer's Roster, so it seems clear he remained aboard the Marblehead, as the Ship's Warrant Bos'n. On 23 March 1944 he was appointed as a permanent Warrant Boatswain.
The USS BROOKLYN CL-40
Warrant Bos'n Craft was transferred to the USS Brooklyn CL-40, likely reporting aboard in July 1944 at Palermo while both ships were part of the Bombardment group in Task Force 87. He relieved Warrant Chief Boatswain Homer V Randolph (who later retired as a LCDR USN). The Allied forces in the Mediterranean area were getting ready to launch the invasion of southern France. This got underway on Aug 14th - all day long the Brooklyn and the bombardment group kept up persistent shore fire support. On Aug 22nd the Brooklyn and two destroyers entered narrow La Napoule Gulf and her guns lobbed tons of explosives into the shore defenses. The German defenders gave up and Cannes fell. Her job done the Brooklyn cruised to a Corsican seaport for replenishment of her empty magazines. On Oct. 22nd, the Commander Eight Fleet, established Brooklyn as his flagship, went on an inspection tour of all newly annexed U S Naval bases in the Mediterranean - Toulon, Naples, Palermo, Bizerte, Algers and Oran.
The ship then received orders to return to the USA. Escorted by destroyers Kearney and Ericson, a jubilant Brooklyn arrived in New York on 1 Dec 1944 and went to the Navy Yard for extensive overhaul. On April 12, 1945 a rejuvenated ship left the yard. Germany's unconditional surrender came as she went south to Trinidad for refresher training.
The USS DULUTH CL-87
When did Warrant Chief Bos'n Craft transfer to the USS Duluth CL-87 ?
No personnel records are found online for this ship. His transfer was likely in the timeframe after the Brooklyn arrived home 1 Dec '44 and not later than the Duluth's departure for the Pacific 7 April '45.
Till 2 March 1945, Duluth served as a training cruiser at Newport, Rhode Island. After a brief overhaul at Norfolk, she sailed 7 April for the Pacific, arriving at Pearl Harbor 29 April. On 8 May, she got underway to join the 5th Fleet and rendezvoused with the fast carriers on 27 May. Severe structural damage to her bow suffered in a typhoon 5 June forced her to return to Guam for repairs, but she rejoined TF 38 on 21 July to screen during the final air strikes on the Japanese homeland until the end of the war. From 24 August 1945 until she entered Tokyo Bay 16 September, Duluth operated with TF 38 which was providing radar picket and combat air patrol for transport aircraft flying occupation forces into Japan. On 1 October, Duluth sailed for the United States, arriving at Seattle 19 October for Navy Day celebrations. The ship earned two battle stars.
Based at San Pedro, California, Duluth served a tour of duty in the Far East between 3 January and 27 September 1946, and on 24 February 1947 sailed for an extended visit at Pearl Harbor. Between May and July, she visited Melbourne and Sydney, Australia, Truk, Guam, and Manila. In May 1947 Life Magazine published a special 37 page edition covering the ship's Crossing of the Equator at the 180th Meridian on May 7th, and Goodwill Cruise to Australia -titled " Aboard the USS Duluth CL-87" including photographs and commentary of the Court of Neptunus Rex, with a roster of all aboard. She served again in the Far East, between 22 September 1947 and 19 May 1948, when she returned to her new home port, Long Beach, She was placed out of commission in reserve 25 June 1949.

CWO William Craft married Miss Clair M Miller in the post war 40s and they had a daughter born in LA County, in the Fall of 1947 - Miss Paula Clair Craft. They made their home in Long Beach, Calif.
Note: By June 1950 only 13 cruisers remained in commission in the U S Navy
When did Warrant Chief Bos'n Craft have shore duty?
No personnel records are found online to aid us here, but we know that he did some 4 yrs of shore duty and only two windows are open in his career for this; Fall '49 to Fall '51 and Summer '57 to Summer '59. The Long Beach Naval Station seems the most likely location, as Harbor Master or Port Services Officer, another possibility is the Seal Beach Naval Weapons Station with a Navy cargo handling battalion.
The BREMERTON CA-130
Bos'n Craft is assigned as Warrant Chief Bos'n of the Bremerton CA-130 in the Fall of 1951. Bremerton was recommissioned 23 November 1951. After refresher training she sailed from Long Beach on 23 Feb 1952 to joined the 7th Fleet for her first cruise of the Korean War zone. Her guns blasted enemy lines at Wonsan, Kojo, Chongjin, and Changjon Hang, Korea. On 13 September 1952 she was relieved and returned to Long Beach.
Seven months were devoted to overhaul, drills, and gunnery exercises, and then on 5 April 1953 the ship again departed Long Beach for a tour with the 7th Fleet. Upon joining TF 77 her guns pounded enemy installations, troops, and railroads in Korea. Bremerton received two battle stars for service performed during the Korean action. In November 1953, the ship returned to Long Beach and commenced a shipyard overhaul. She then conducted extensive training and then departed for another tour of the Western Pacific 14 May 1954. On 17 October 1954 the ship returned to Long Beach. In January 1955, Bremerton proceeded to Mare Island Navy Yard at Vallejo, California, for her regular overhaul period. On 12 July 1955 after a training period, Bremerton again sailed for duties in the Far East. On this trip to the Western Pacific, the ship served as the flagship for Commander Cruiser Division One. For two weeks in October she served as temporary flagship for Commander Seventh Fleet, in Keelung, Formosa. During this Far East tour, she operated with Task Force 77. For her operations with Nationalist Forces she earned her second China Service Medal. While in Formosa, her crew participated in the Chinese Nationalist celebration of Double Ten Day with Chiang Kai-Shek presiding. Then on 12 February 1956 the ship returned home to Long Beach. On 6 November 1956 Bremerton left for the Orient once more, but this time going via Melbourne, Australia and the 16th Olympiad. Besides Australia, the ship visited US and Canadian West Coast ports, Pearl Harbor, Guam, Kwajalein Atoll, the Japanese ports of Yokosuka, Kobe, Beppu, Okinawa, Keelung and Kaohsiung, Taiwan, Hong Kong, the cities of Manila, Olongapo and Dingalan Bay in the Philippines. The ship returned to Long Beach in May 1957.
CWO-3 Bos'n Craft appears in all the Bremerton cruise books over this time frame with comments like " For six years an indispensable part of all deck seamanship evolutions, "Boats" and his industrious crews have built Bremerton's proud reputation as one of the cleanest ships in the fleet." On 1 June 1957 Bos'n Craft is promoted to CWO-4, On July 16 he departs the Bremerton.
From the USS Bremerton CA-130 Cruise Book 1958 page 86 we see:
AN OLD FRIEND LEAVES
"The toughest job I ever had is to stand up here and say good-bye."
Chief Boatswain William P. Craft told his assembled shipmates
during an 'all-hands-aft' in his honor, July 12. (1957) The colorful
Warrant Officer was honored after he had been an honorary inspecting
officer during a personnel inspection. In his comments during the
ceremony, Commander Cruiser Division One (Rear Admiral R. S. Benson)
commended Boatswain Craft for his part in, "making BREMERTON a
first class fighting ship."
Four days later, July 16 (1957) BREMERTON rolled out the red carpet for
her favorite Boatswain. Eight of his fellow Warrant Officers served as honorary
side boys as he was piped over the side.
"Boats", who helped bring BREMERTON out of mothballs in 1951 in
time for two years of Korean combat duty, served aboard for almost six years.
During that period, Boatswain Craft made six extended Far East Cruises.
His duty station from the Summer '57 to Summer '59 is unknown. Again it would seem to be the same Southern California range of naval facilities discuss for Fall '49 to Fall '51. (As a postscript to the story - I learned that his 2nd shore duty was with the Pacific Reserve Fleet, Long Beach group. He was transferred from the USS Bremerton to this shore duty on 7/16/1957; this mothball fleet was located on the Navy mole- south leg - piers 15 & 16 and were mainly minesweepers.)
The USS PROVIDENCE CLG-6
In the Summer/Fall of 1959 Warrant Chief Bos'n Craft joins the Pre-commissioning officers and crew as plankholders of the USS Providence. The ship is provided with Terrier missiles, command ship facilities, and a nuclear weapons capability. She is recommissioned 17 September 1959 as CLG-6 in Boston, Mass.
Following shakedown out of Guantanamo Bay, Providence arrived at her new home port of Long Beach, 29 July 1960. After a six-month tour of duty with the 7th Fleet, she returned to Long Beach 31 March 1961. Following exercises off the West Coast, she arrived at
Yokosuka, Japan, in May 1962, and relieved Oklahoma City CLG-5 as flagship of the 7th Fleet with home port of Yokosuka, Japan. During 1962 and 1963 she participated in 7th Fleet exercises. During a three-day visit to Saigon in January 1964, she hosted South Vietnamese and American dignitaries. Departing Yokosuka in July 1964, she returned to Long Beach in August. In October 1964 she began exercises in the Eastern Pacific. During January to June 1965, she received modern communications equipment. Spending the remainder of 1965 off the West Coast with the 1st Fleet.
Deployed to WestPac 12 November 1966, she again relieved Oklahoma City as flagship of the 7th Fleet on 1 December 1966 at Yokosuka, Japan. She contributed to a major bombardment of enemy positions in Vietnam 1 April 1967. She dueled with an enemy shore battery off the DMZ on 25 May and took a hit from the shore battery on the radar unit on the O6 level.
During 1968, she provided gunfire support off Vietnam during each month except December.
In January the USS Pueblo was seized by North Korea, and the Providence lead a carrier task force into the Sea of Japan, During February 1968 the Providence was involved in the Tet Offensive. She shelled the wall around "The Citadel" in the Battle of Hue, allowing the marines to break the stalemate and capture the city. In August, Providence was awarded the "Top Gun" award as the best cruiser on the southeast Asia gunline. From that point on, Providence was known as the "Fighting Flagship" During the month of October Providence exhausted the entire supply of 6 inch ammunition afloat in WESTPAC. Total ammunition expended by Providence during her WESTPAC deployment was 50.371 rounds while firing 1,575 missions.
Providence earned 7 battle stars during her Vietnam service, the Armed Forces Expeditionary Medal, Navy Unit Commendation Ribbon, Combat Action Ribbon and the Vietnam Campaign Medal.
During 1969 she operated with the 1st Fleet off the West Coast,
Bos'n Craft departed the ship and retired on Dec 31 1969 after ten years aboard.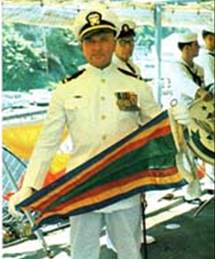 Little is known of his personal life before the Navy aside from he came from Kentucky - (searching for the Craft family in Kentucky brings up a number of possibilities but none can be clearly identified as his). Bos'n Craft was divorced in January 1966, his wife Clair passed away in September 1988. After he retired he lived six months a year in Japan with his lady friend in Yokohama and the other half year in the LA area with his daughter.
The Bos'n came to visit me one day sometime in 1973 when I lived & worked for one of the big Steamship lines in Yokohama. That's because I would often visit the 'Club Oasis' on Fridays after work. The Mama-san of this Chinatown bar was his lady friend. Many PROVIDENCE Deck Division parties were held there. The Punchbowl Cemetery confirmed that Bos'n Craft passed away on October 29, 1994 in Yokohama, Japan. Recent efforts to contact his married daughter, Paula, in the Los Angeles area have gone unanswered and we leave it so.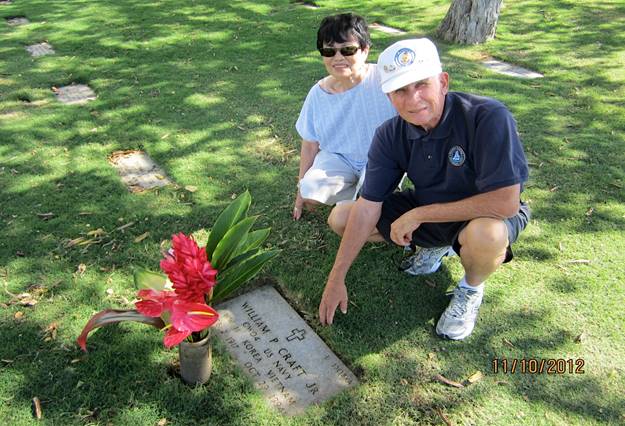 In November 2012 my family was on vacation in Honolulu, HI and made a visit to the Punchbowl Cemetery to pay our respects to the Bos'n. Now this is a big and beautiful National Cemetery and the grave locator only tells you the number of the marker, but not the location in the section, so some hunting is necessary to find a head stone or niche. When we asked the cemetery director how easy would it be to find his head stone? He asked,"are you healthy?" Hinting at how large the area to search was. To our great surprise my family found him after the 4th headstone we looked at ! It seemed as if he knew we were coming and steered us on the right course. We know the Bos'n used many high placed connections to stay aboard PROVIDENCE so long but he must have used some more to get the very BEST plot in the cemetery. He has a view of the sea, Honolulu & Pearl Harbor, and the entrance -so my guess is he is still in charge.
In Summary, his Thirty plus years of Naval Service included being a Warrant Ship's Boatswain on five cruisers. He held Warrant Officer rank for just days short of 26 years. He met the many challenges and perils of the modern seven seas in both War and Peace. He was a man for all seasons and a true leader with charisma. He will long be remembered by all who sailed with him as "the best we ever knew" and the saltiest guy in the Navy . How lucky we all were to be his shipmates!
Jim Cozine
Ltjg, 1961-63
USS Providence (CLG-6)
Navigation 1st/3rd Division
---------------------------------------------------------------------------------------------------------------------------------------
Recollections from the past...........
Subject:
Re: Prov roster
Date:
Tue, 11 May 1999 09:12:53 EDT
From:
BillMCLG6@aol.com
To:
samvilla@home.com
In a message dated 99-05-08 22:47:03 EDT, you write:
<< Bos'n Craft >>
there was one time in Kobe Japan we were on liberty.Quite a few of us
Boatswain's Mates and our leader (Bos'n Craft) were in this bar splicing the
main brace.Bos'n Craft made the remark that he was the badest SOB that ever
left Kentucky.Well my being a cocky young BM3 and being from Kentucky made
the mistake of telling him he hadn't proved that to me. Because I woke up
about five minutes later and him looking at me with a beer in his hand saying
this ones for you.Never questioned that old man again. That old man was like
a father to all us BM's and no one messed with us. If he ever came up to you
and said "I think you ought to stay on board a few days, weeks, ever how
long, we didn't question him. We just never looked for our liberty cards
until he gave it to us. He was pretty special.
Send some more on him later,
Bill McCubbin
---

---
Subject:
Your Great Web Page
Fri, 26 Feb 1999 18:21:34 -0500
From:
jimsuz@mindspring.com
To: <samvilla@home.com>
Sam,
Although we have not yet communicated, I felt I had to write you and let you
know what a great site you have created. Being an old Providence sailor, I
started at the beginning and clicked my way to the end. I alternated
between outright, side-splitting laughter to a lump in my throat the size of
a golf ball. The crowning touch, I thought, was the picture of Bosn Craft.
I loved that old guy. I worked with him at the forward refueling station,
which he was in charge of. Being an IC man, I was the sound-powered phone
talker who relayed to the tanker, whatever Bosn said. He sometimes said
things that I wouldn't repeat in front of most audiences. However, he would
go to great pains to listen to what I said, to be certain I was quoting him
verbatim. I always did quote him absolutely--I was afraid not too!
But he had a great sense of humor. Once, when things were going smoothly
during refueling, I was talking to the tanker, just BS'ing I think, and I
demoted Bosn Craft to Chief Craft. He heard what I said--I was
intentionally loud--and he turned to ream/straighten me out and saw me
smiling. He just grinned broadly and shook his head. Probably thinking,
"where do they get these guys." But he was a great guy and I admired and
respected him more than any officer aboard the Providence.
I did thirty-nine months aboard the ship during the years of '65 to '68.
Although not a career navy man, I remember my time aboard that vessel
fondly. It was good duty, indeed. The best friends of my life were begun
there. Although I haven't kept up with all the guys, not a day goes by that
I don't remember them.
Anyway, I just wanted to say "Great Job." Keep it up. I like to come down
to the computer, in the middle of the night, when my wife has turned in,
and log on to your web site. With beer in hand, I can sit and get as
nostalgic as I want. No one there to see me. Relive the old days and good
times of being a United States sailor aboard the USS Providence. My God!
What memories! Thanks, pal.
Jim Broyles
---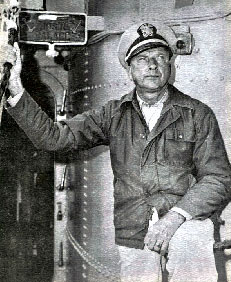 ---
Subject:
Re: [Fwd: Screw Damage Incident]
Date:
Mon, 3 Apr 2000 16:52:37 -0400 (EDT)
From:
Michael Matteson <MichaelM@lmssi.com>
To:
samvilla <samvilla@home.com>
Yo Sam,
I remember the desk incident although I only remember Prov. going into the
dry dock once in Yoko. That may have been the time, although we dinged a
screw on a log we backed down over either in Manila or Cebu. Maybe we were
able to do both repairs in the same docking.??
The desk incident reminds me of the time I had to replace the focus coil on
the final amplifier in the SPS-42 radar and when I was done I had to dispose
of the old coil. After I checked to make sure it was an odd cog stock no. I
trundled it back to the fantail and was going to just chuck it over the
stern, when I decided it would be more proper to slide it down the garbage
chute (remember it?). The damn thing went down about 2 feet and stuck
tight!! I had to go find some help and we got a chain fall out there and
hooked it to the hand rail and nearly pulled the garbage chute loose from
it's mountings before we retreived the focus coil. Then I just chucked it
over the rail per my original plan. The reason I was so cautious the first
time was that Bos'n Craft caught me emptying a bucket of dirty swab water
over the side one time and I got an ass chewing I'll never forget!!
Mike Matteson
---
From: APilger <apilger@comcast.net> Save Address | Headers
To : <sam@star77.com>
CC :
Date : Thu, 27 May 2004 15:03:15 -0400
Subject : Re: In Memory: CWO4 Bos'n Craft

Afternoon Sam....

As a "Flag Puke" with C7F, I had to admire the Bo'sun. You always knew where you stood with him, never any doubt. I can recall the Bo'sun joining the Marines on top of the missle house for their routine morning exercises. When it came to Push Ups, he got two milk crates and did his from them and went all the way to the deck. Never a peep out of the "mud soldiers about his physical abilities.

He could be hard on you when it was warranted but at the same time, he was fair.

The Navy lost a great officer and gentleman when Bo'sun Craft "Passed Over The Bar" to that great saloon in the sky. I would be willing to bet he is holding court now and giving advise to God on how to "square away" heaven.

AC
---
From: "Bill McCubbin" <billmclg6@insightbb.com> Save Address | Headers
To : <sam@star77.com>
CC :
Date : Thu, 27 May 2004 13:26:03 -0400
Subject : Re: In Memory: CWO4 Bos'n Craft

Got to tell you it's a sad day and a glad day. Hate to hear of his death,
but now we can finally lay him to rest.
Bill

---
From: "voelker" <voelker@cox.net> Save Address | Headers
To : <sam@star77.com>
CC :
Date : Thu, 27 May 2004 21:03:55 -0400
Subject : In Memory: CWO4 Bos'n Craft


I would like to add a special comment regarding the memory of Bo's'n Craft. I was in charge of the rewind shop and one of our tasks was to rewind motors. Even tho we had a small exhaust fan and the fumes from the varnish baking would turn the white paint yellow.
Seeing as how I worked in the missile house and know that they used a special epoxy white paint, I tried to get some to paint the electrical shop, couldn't get any as it was for the missile house only.
I spoke with the Bo's'n and he saw to it that I got the epoxy white paint.
The following material inspection the XO was with the Bo' s'n and the XO noticed that this was epoxy paint. The XO asked the Bo's'n how this happened. Bo's'n Craft spoke up and told the XO that several cans had been missed marked. The Bo's'n winked to me and never was another word said.
He was indeed a special MAN!
Rodney A Voelker, NCC retired, former EM1 voelker@cox.net

return